Photo by Traveling Diva on Flickr
WHEN we headed for The Edinburgh Dungeon, one of the few Edinburgh attractions that we hadn't yet visited, we hadn't done our homework. You could say we were completely in the dark, writes Erica.
On arriving we followed the dark and eerie pathway down, around, and down again into the bowels of Edinburgh (sounds nasty – ed) somewhere between Waverley Station and The Royal Mile.
We passed through the ticket area and were directed to a holding area where we could enjoy some of Edinburgh's gory history including killing to order and cannabilism.
We were beckoned into a court room by a shrill woman who turned out to be the star actress of the experience. As we sat nervously she goaded her criminals (us!) and demanded that one lady come to the dock and share her crimes with the rest of us. This included hen night shenanigans — nice! 
Then she scanned the audience and her gaze fell upon my husband. He was ordered to the dock where his crimes were outed – cross dressing.
He was made to choose his punishment – hanging by the neck until dead or a trip to Dundee. This was definitely our favourite part of the day — the courtroom overall — not just the hanging.
The actress was outstanding and made it very funny.
He chose hanging by the neck until dead. We were led through to several other rooms, a demonstration of torture devices, a short boat ride, and a trip to a graveyard followed.
The experience ended with a ride that simulated being hanged.
Phew. This isn't DisneyWorld folks.
On that point it's worth noting that this isn't an experience for young children. Some parts are frightening and quite jumpy. We estimated that it was suitable for children upwards of nine. It's also quite pricey and a bit samey — so do be sure this sort of thing is for you and yours before you head down! 
Factbox:
Prices range from £8.05 – £15.50 Location – Central Edinburgh just off the Royal Mile
Website – The Edinburgh Dungeon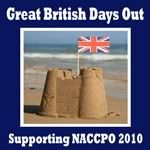 This is one of a series of a Great British Days Out reviews. Reviewers receiving complimentary tickets are asked to make a donation and we also hope readers can support children's cancer charity,NACCPO. If you enjoy Erica's review or would just like to support this much-needed charity, please visit our JustGiving page.