Photo by Toby Barnes on Flickr.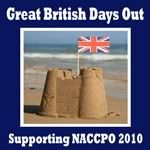 HEADING off to Matlock Bath in Derbyshire on a cold, wet morning in May was probably not the best way to appreciate all that Gulliver's Kingdom has to offer, writes Rosie Scribble.
Nevertheless, we did have a really good time and we would definitely go back. Gulliver's Kingdom is one of four Gulliver's parks – Keris has previously written about her own trip to Gulliver's World, Warrington. We were given free tickets to visit the park at Matlock Bath as part of the Great Days Out Campaign supporting the children's charity NACCPO.
I visited the park with IJ as part of a weekend hotel break in Derby. We made our own accommodation arrangements and stayed in The Stuart Hotel close to Derby City Centre and the impressive Westfield shopping centre which was fabulous. The location was just a 30 minute train journey from Matlock Bath which is also home to the Heights of Abraham.
We found Gulliver's Kingdom to be more fairground than theme park but that is not to take away any of the excitement IJ had exploring the park. It is quite compact and it has to be said, a little run down although IJ did not seem to notice. It is designed for children aged between two and thirteen and built into the steep Derbyshire hillside. It is divided into seven small themed areas including Dinosaur Kingdom, Fantasy Terrace and Lilliput Land. Each area contains rides, shows, restaurants and shops, albeit on a very small scale.
We particularly liked the soft play area, the dodgems (which we went on three times) and watching the resident characters, Gully and Gilly Mouse, performing in front of Lilliput Castle. The layout is slightly higgledy-piggledy but there is lot to explore, particularly for younger children who aren't keen on scary rides. I had expected it to be bigger and the fact that it was half-empty on a cold day did mean that it lacked atmosphere, although the staff were in good spirits and full of enthusiasm. They definitely helped bring the place to life and we were made to feel very welcome even though they had no idea I would be writing this.
The rides suited IJ very well because she likes them to be small and safe; she is not the adventurous type. There is a small pirate ship, a log flume and several small roller coasters which are definitely aimed at younger children, although at six years old, IJ was wary of trying them. In a couple of years I suspect she will. I don't think any ten year old who likes big, fast, scary rides would enjoy Gulliver's Kingdom; it is certainly not for thrill-seekers.
I particularly liked the chair lift which took us from the entrance to the top of the park and made the rest of the journey downhill. We did not notice it when we first arrived and I certainly found it a steep climb to the top of the park and push chairs would certainly struggle. We saw several pushchairs coming up on the chair lift so that is obviously the way to do it if you have very small children.
We ate in the restaurant on Bourbon Street near the main entrance and gift shops, and the food was very good and fresh. I had a jacket potato and IJ choose a children's packed lunch; there was a selection of ham or cheese sandwiches, crisps, yogurt, biscuits and fruit juice to choose from. There were also a number of other eating places dotted around the park selling pizza, fish and chips, doughnuts and waffles, coffee and cake but we did not venture into any of those.
The cold weather meant that we weren't able to spend a full day there but IJ loved it, nevertheless. The market is marketed as having 50% of its rides undercover but we didn't find enough to fill a full day. We plan to go back later in the year because there were many rides we weren't able to go on, such as the carousel and the moon buggies, and we would like to have a go at the adventure golf and try the lazy river ride.
One of the highlight's of IJ's visit was seeing Dora the Explorer 'in person.' Apparently she smiled and waved at her which IJ thought was fantastic. We are going back in the summer with a couple of friends. I actually think the location is too steep for IJ's grandparents to manage but they may enjoy taking in the stunning Derbyshire scenery and the rest of Matlock Bath, so they would probably prefer do that instead. So, it was a very good day out despite the weather. IJ loved it, but if you visit, be prepared for some steep climbs and a lot of walking, and I would recommend going when the weather is good.
Factbox: Adults & children over 90cms £12.50
Opens 10.30am
Pushchair accessibility: Poor due to the steep incline
Facilities: Good, clean toilets
Cafe: We tried one and it was very good
SatNav postcode: DE4 3PG
Rosie and family visited Gulliver's Kingdom with a complimentary ticket provided for Have a Lovely Time and has made a donation to the children's cancer charity NACCPO. This is one of a series of a Great British Days Out campaign posts and we hope to reach a target of £1,000 for NACCPO. If you enjoy Rosie's review or would just like to support this much-needed charity, please visit our JustGiving page.